Description
Make your Movie or Game as Shocking as in a Movie Theater.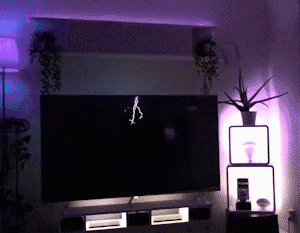 USB LED Strip Light, change color with the sound of TV
Make your Life More Colorful.
Led lights for tv multiple bright colors make images and movies in tv more vivid. behind tv led also balances the brightness of unlighted wall and your TV PC screen which greatly decreases your eyes strain.
Features
Mic Mode & APP Control
led light on tv, you can freely choose to control many colors via APP, remote control and controller. LED lights strip built-in sensitivity adjustable microphone , it has a smart music mode, which creating romance, relaxation, party ambiance with Music, lights color will change with the music beats or your microphone.
Protect Your Eye
Watching TV in the dark causes the eyes to constantly adjust between a bright screen and dark surrounding area. tv backlight LED elevates the ambient light, reducing eye strain and headaches., reducing the eyestrain caused by differences in picture brightness, creates a beautiful bias lighting when watching TV
Multifunctional
The tv back light remote controller with 40 keys, including 16 different light colors
Wide Range of Uses
Strip lights is a perfect house ornament because Color changing Led transforms your living room, bedroom, home, kitchen, ceiling, back of TV, desk, stairs and more with colored lights led backlight lcd. especially great for Holidays and Events like Christmas, Halloween, Parties, and more, suitable for indoor use.It is a ideal gift for your family and friends.
Timing
After connecting led lights for the back of tv via Bluetooth, you can set the timer to automatically turn off the light strips on the app. It will not affect sleep. It is convenient for rest and save electricity.
Specifications
Voltage: 5V
Emitting Color: RGB 5050
Color: Multicolor
Strip type: SMD
Power Consumption (W/m): 2.88W/m
Battery : No Included
Package Included:
1/Set LED Lights TV Backlights
Payment & Security
Payment methods
Your payment information is processed securely. We do not store credit card details nor have access to your credit card information.
---
Security