Description
Brighten Up Your Garden and Impress Your Neighbors with Seasonal Colors.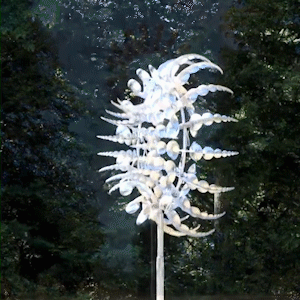 This garden wind spinner is constructed with durable stainless steel metal components and a long-lasting combo finish of paint and foil, not afraid of rainy and other severe weather, bright metallic and reflective painting creates a visual sensation in the garden, that will attract the eyes of passers-by and neighbors and arouse their admiration!
【Stainless Steel Windmill】This wind powered kinetic sculpture is made of durable stainless steel metal parts and durable paint, not afraid of rain and other bad weather, the correct metal and reflective painting create a visual feeling in the garden, which will attract passersby and neighbors' eyes and arouse their admiration.
【Easy to Install】This gardening spinner decoration is easy to install, just rely on wind power, no extra accessories needed. You can place it in a sunny and windy place, then the unique and magical metal pinwheel will rotate with the wind into various beautiful and futuristic shapes. This is the perfect garden decoration.
【Multi-purpose】Our dynamic metal wind spinner is perfect for outdoor decoration such as gardens, patios, lawns, patios, etc. Very beautiful, adds character and beauty to your house, perfect artistic vibe.
【Stable, Sturdy, Modern Design】The metal wind spinner has a brushed coated surface and a stabilizing stake on the base, which can withstand all kinds of weather and is durable on windy days.
Specifications
Material: Metal iron
Color: Colorful or silver
Size:

Pole height: 63cm
wind bell diameter: 33cm
FREQUENTLY ASKED QUESTIONS
Live in the southwest, will the paint colors stand up to excessive summer heat 100+ degrees without bubbling or pealing off??

I live in the NW and have had 2 summers with it and colors are still great. 1st year summer was 100 and second summer was 98.

Can The height of the spinner be adjusted to lower?

You could remove the middle section of the metal post to make it shorter. The sections of pipe could be inter changible.

All parts solid metal??

All parts is metal. It is very sturdy.

How do you secure it so it doesn't fall over the wind??

The bottom post has spiked feet that you stand on to drive them into the ground. Very firm and stable!.
Payment & Security
Payment methods
Your payment information is processed securely. We do not store credit card details nor have access to your credit card information.
---
Security